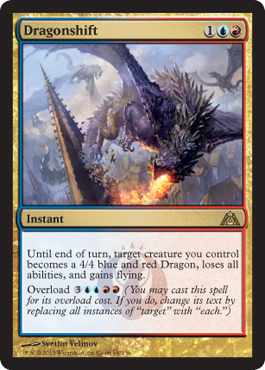 3 mana to turn one of your creatures into a 4/4 blue and red dragon with flying and no other abilities. Not bad, I suppose. Of course, for just four more mana, you can make all your creatures 4/4 blue and red dragons with flying. Not bad I suppose. Probably difficult to play though given the high mana cost.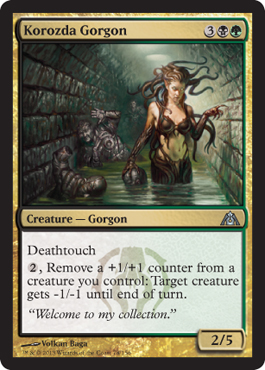 5 mana for a 2/5 with deathtouch, and then if you pay two mana, you can remove a +1/+1 counter from one of your creatures in order to give another creature -1/-1 until end of turn... Token removal I suppose...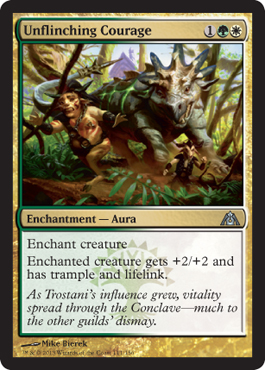 3 mana to enchant a creature with +2/+2 trample and lifelink? Better than Rancor, but higher cost. I think I'd rather drop this on a Thragtusk than using a Rancor on a Thragtusk...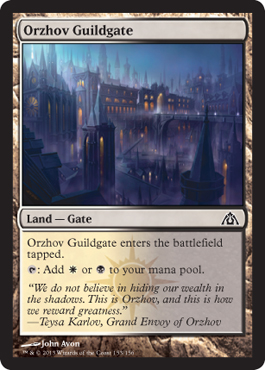 Art in the frame...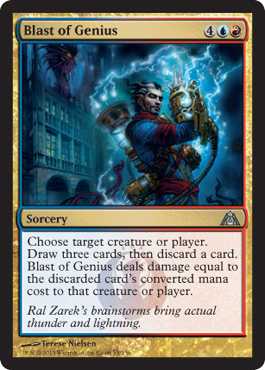 For six mana, you choose a creature or player, and then draw three cards. Once that's done, you discard a card and it deals damage to that discarded card's mana cost to the creature or player chosen. Interesting. Bit costly though. Maybe more for Commander/EDH or something that involves high costing spells...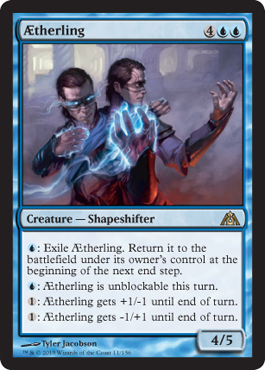 Six mana for a 4/5. Not too bad so far. One of its abilities is to pay one blue mana to exile it and bring it back at the beginning of the next end step. Interesting... You can also pay a blue mana to make it unblockable. Then you can pay a colorless mana to either give it +1/-1 or -1/+1. Interesting, interesting...
I think that's it for right now... I'll see what I can do about getting these cards up on the spoilers page...