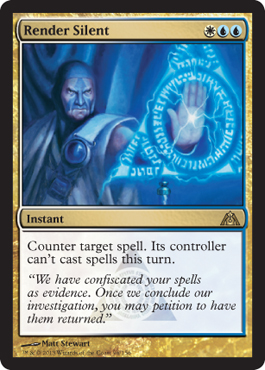 This is the actual art of Render Silent. Not bad, not bad...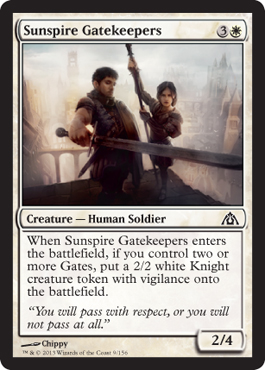 Sunspire Gatekeepers is the first spoiler of the Gatekeepers cycle of 4 mana for a 2/4 with an ability. It appears they'll be adding a good purpose of gates to the game, but will most likely be best in limited (maybe, more specifically sealed, I think), or else budget decks. So with two or more gates, you get a 2/2 knight token with vigilance when Sunspire Gatekeepers enters the battlefield. 4 mana for a 2/4 and a 2/2. Not too bad if you think about it. A bit late game, but not all that bad...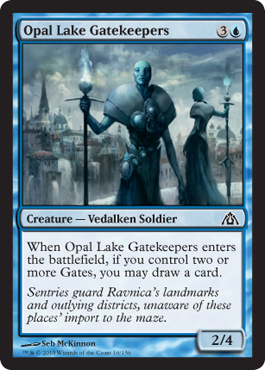 Four mana to get a 2/4 creature and to draw a card... I like Sunspire Gatekeepers a bit better...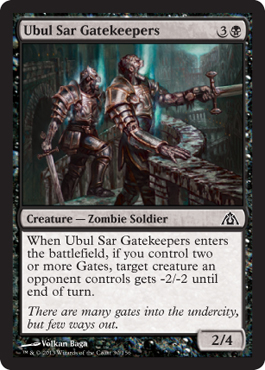 Opponent's creatures get -2/-2 for four mana and you get a 2/4. Pretty good. Gets rid of 1/1 tokens that also may have a bonus from either Phantom General or Intangible Virtue...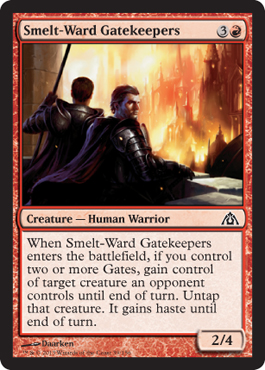 A cheaper and less powerful Zealous Conscripts. Not too bad, but I'd rather run Zealous Conscripts. It may cost one more, be a 3/3 instead of a 2/4 (not a bad trade off though), but it has haste and doesn't have the Gate requirement like Smelt-Ward Gatekeepers.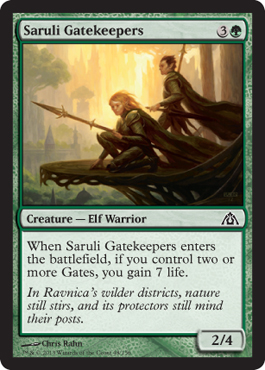 7 life plus a 2/4 for just four mana? It's like a Angel's Mercy that is green plus a free creature. But, again, we have the gate requirement. Otherwise it's just a 2/4...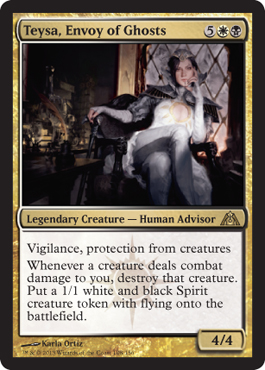 Oh. Envoy. NOT Envy... Makes sense now...
7 mana for a 4/4 with protection from creatures (Mizzium Mortars will take car of this easily), and when you are dealt combat damage by a creature, it gets destroyed and you get a 1/1 flying spirit token. Really powerful, probably will see Commander/EDH play for sure, but damn. Powerful, might not show up much in standard, especially if you can easily be killed in about 5 turns, which is two away from casting Teysa.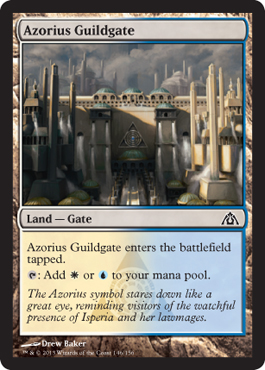 We get to see the art in the card frame.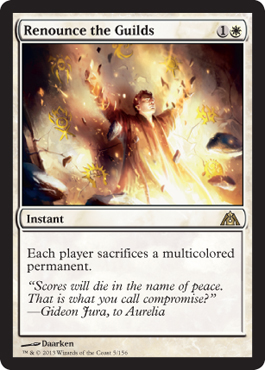 Interesting. Unfortunately lands are colorless... Last I checked anyway... Otherwise we'd be killing shocklands on turn two.
Okay, this is pretty awesome. All your unleashed creatures get haste, and of course you get an unleashed (4/4) first strike and haste creature for four mana. I like this. Might bring back my Rakdos unleash deck now that I see Exava's card.