I was wondering what they could possibly do next. They've done the 20th Anniversary, Lands, Legendary Creatures, Artifacts, Banned Cards, and Dragons. This will be their 7th From the Vault product (and I'll be buying it, of course).
Before we continue, let's look at this sweet art: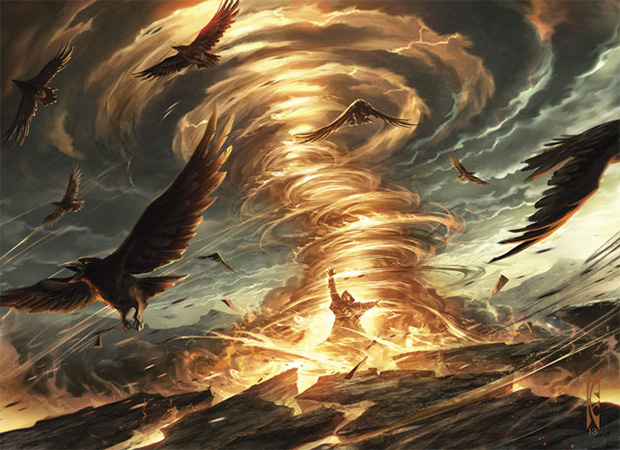 Took a good look at it? Good. So that could be almost anything. Except probably something white. It's got birds so it could be blue, but I'm thinking white.
Either way, let's take a look at some of popular/not so popular destruction spells and look at the reasons why they could make the list and the reasons why they won't. I also like to call this wishful thinking because I'd love some of these.
Card

Opinions

Armageddon

This is just simply land destruction. It's a sorcery, costs only four mana, and it definitely fits the theme. We'll most likely be seeing at least one destruction spell for each card type, and this would work for the land destruction card.

Austere Command

Options! The Command cycle for Lorwyn is seeing reprints in recent times with at least one reprint of each floating out there. Because of all the different things you can choose from with this card, I feel that this would be a favorite to show up.

Boom // Bust

While split cards have yet to show up in a From the Vault release, Boom//Bust is a possibility since you have the option of blowing up two lands for two mana or all of them for 6. Of course, if Armageddon shows up, this might be something we won't be seeing.

Damnation

Modern players want Damnation and the art would/does look awesome in foil. It's a white removal card printed in black.

Now, foil Damnation is about $70 or $80 at the time of this writing, but that didn't stop Wizards from putting a foil Jace, the Mind Sculptor in FTV:20, so that would be a good reasoning as to why this could show up, but on the other hand I've heard Damnation called a mistake because it does something black doesn't quite do. Black is edging closer to this sort of thing, so it might show up again.


Day of Judgment

It's a Wrath of God without the regeneration clause. Most recently printed in M12, it's a popular favorite in the creature destruction possibilities when Wrath of God isn't around.


Devastation

Land and creature destruction rolled into one card costing seven mana and only showing up in a Starter 1999 and Portal. Since it only showed up in beginner level sets, there's no reason this couldn't show up again with newer art.

Devastation Tide

Remember the picture up near the top? Doesn't it look like it could be Devastation tide? It may not be annihilation by definition, it clears everything but lands from the board and puts it in everyone's hand, thus forcing discarding. I'd like this to show up and we need something from a recent set to grace this product. I feel like the previewed art is new art for this. It could be anything though.

Guan Yu's 1,000-Li March

We saw several reprints from Portal: Three Kingdoms in Commander 2013 and a couple of legendary creatures showed up in FTV: Legends, so I figured we could see destruction spells from there. It's sorcery speed, six mana, and destroys tapped creatures. While not as good as others in this list I've compiled, I believe more P3K reprints can't be bad. Besides, EDH!

Harsh Mercy

I like this. Three mana and it falls along tribal lines. Anyone who goes tribal in EDH would love one of these because you could save your elves, goblins, or slivers while forcing opponents to choose the creature type of their most powerful creature and watch the rest wash away into their graveyard. This is really powerful and would be something cool to see show up.

Life's Finale

Creature destruction and the power to take creatures out of an opponent's library and stick them in their graveyard. As an EDH player, this is pretty powerful, but it could also show up in Modern or Legacy just as easily and be just as devastating. Have cards required to fire off your combo on turn seven? Not anymore!

March of Souls

I searched through anything on Gatherer with "Destroy all" in the rules text believing that would be the primary focus, so I pretty much picked out the things that seemed that most people would play, but let's face it... There will be a couple cards in this box that wind up being worth very little on the secondary market because they aren't the card everyone wants to play. This might be one of those. 5 mana Wrath of God that gives flying spirit tokens in place of destroyed creatures. Most people don't like giving opponents things.

Obliterate

An uncounterable artifact, creature, and land destruction. Why not?

Overwhelming Forces

Once again, another P3K card. You destroy creatures your opponent has and you draw cards based on the number of destroyed creatures. Sure, this could work as one of the cards...

If it isn't Day of Judgment or Wrath of God, it's Planar Cleansing. It's third printing in M14, it probably won't make the cut, especially with some more popular white annihilation spells that are just as likely to show up.

Pure // Simple

I liked this because like Boom//Bust, this gives options. You can either destroy a multicolored permanent or all Auras and Artifact-Equipment cards in play. It's also the only one with green in my list, but that's wishful thinking on my part. Either way, I'll love whatever is in the FTV box.

Purify

Just plain artifact and enchantment destruction. In a world where everything is land, creatures, or everything, it is refreshing to see a card specific to artifacts and enchantments.

Ravages of War

More P3K! Land destruction. Essentially a functional reprint of Armageddon. Toss-up between the two, but I feel like they'd go with the more well known one which is not Ravages of War.

Sinkhole

I wanted this in FTV:20. I want one of these because it is so good! On turn 2, you can slow your opponent by destroying their only land. You'll be streets ahead of them, and you know what? Sinkhole isn't on the much hated reserve list so it could very easily be printed for this set.

Supreme Verdict

Recently printed in Return to Ravnica (also as the Buy-A-Box promo for RTR), Supreme Verdict has recently become the favorite method of destruction in Standard. It's just like Wrath of God, but swapping a colorless for a blue, taking away the "no regeneration" clause and adding a "can't be countered" clause. Maybe the art at the beginning of this article is new Supreme Verdict art?

Witchbane Orb

While unlikely, this card destroys Aura Curses attached to you and was a must-have sideboard card when Innistrad was legal in Standard. On the plus side, it does give you hexproof, but with very few curses out there, a card focused on destroying very few cards would probably not show up in this set.

Worldslayer

So, when you attack with this equipped to a creature, and that creature deals damage to any player, everything but Worldslayer is destroyed. Effectively a 10 mana total boardwipe, it may be strange enough and destructive enough to make the cut.

Wrath of God

And last, but not least, the often mentioned (in this article) Wrath of God. What set doesn't have Wrath of God printed in it? (Don't answer that, but it's been printed too often in my opinion. It may be the go to destruction card, but it recently showed up in Commander 2013 so I'm actually hoping this doesn't make the cut.) While a classic, if they print Damnation in this, I doubt Wrath of God would show up and vice versa. Either way, I feel like we'd likely be seeing this or Damnation.
As honorable mentions,
Akroma's Vengeance
won't appear because it was just printed in FTV:20,
Apocalypse Chime
destroys only cards in the Homelands expansion which makes it completely useless (Homelands is regarded as the worst set ever made) and is on the reserve list,
Chaos Orb
won't show up because it is banned in all eternal formats (EDH, Legacy, Vintage) and is on the reserve list,
Eye of Singularity
is on the reserve list, and
Nevinyrral's Disk
was printed in FTV:Relics and most recently in Commander 2013.
Many cards didn't catch my eye as being big, popular cards, while others I've seen, played, or thought would be nice to have printed again.
(In other news, anyone who watches Community on NBC, did you catch the reference in this article?)