So this particular deck is a deck many people have probably imagined now that we have Polymorphous Rush. How awesome is it to end a game by having four or more of a particular card on the field?
Bantvisionary (White/Blue/Green)
1st Place, Red Battle Games FNM: Danville, VA 16 May 2014
Creatures

x4 Kiora's Follower
x4 Sigiled Starfish
x4 Sylvan Caryatid
x4 Biovisionary
x2 Brimaz, King of Oreskos



Land

x4 Breeding Pool
x3 Hallowed Fountain
x3 Temple Garden
x2 Temple of Enlightenment
x4 Temple of Mystery
x2 Temple of Plenty
x3 Island
x3 Forest

Planeswalkers

x4 Jace, Architect of Thought




Other Spells

x3 Cyclonic Rift
x3 Detention Sphere
x4 Polymorphous Rush
x4 Sphinx's Revelation

Sideboard

I don't know what was in the sideboard. I believe there were a couple foil Elspeths and foil Kioras running around, but from what I was told, the sideboard was never touched during the tournament.
So this deck works pretty much the way you expect. You play a Biovisionary or two while ramping to get to a Polymorphous Rush. Jace helps you get there by getting you more cards, Sigiled "Scryfish" Starfish helps you look for your cards.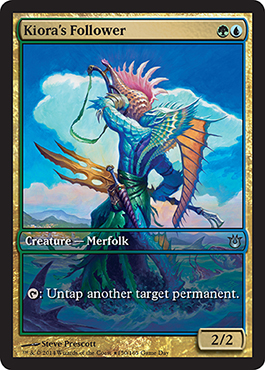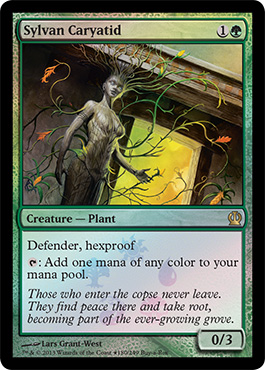 Kiora's Follower and Sylvan Caryatid help with ramping your mana to use multiple strive triggers with Polymorphous Rush.
Cyclonic Rift allows for removal, as does Detention Sphere, and from what I've been told, the player using this deck overloaded Cyclonic Rift at the beginning of their opponent's end step forcing them to discard several cards.
This is definitely a crazy deck that worked well and came out on top during an 8 person FNM tournament. Definitely try it out!